Zika Virus Information
Posted: Wednesday, June 15, 2016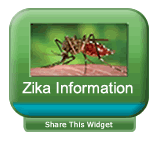 Zika Virus is a viral infection that is spread by the bite of an infected mosquito. The disease is primarily spread through the bite of an Aedes species mosquito infected with Zika Virus. Many people infected will not have any symptoms or will only have mild symptoms.
According to the CDC, before 2015, Zika outbreaks occurred in Africa, Southeast Asia, and the Pacific Islands. Currently though, outbreaks are occurring in many countries and territories.
Zika virus can be transmitted primarily through mosquito bites, from a pregnant woman to her fetus, sexual contact, and blood transfusion. Zika Virus is shown to affect the fetuses of pregnant women and cause a serious birth defect known as microcephaly. Microcephaly occurs when the baby is born with a smaller brain, which can result in medical problems and impaired development.
Once a person has been infected, it is likely that a person will then be protected from future infections.
There have been over 600 travel-associated cases reported to the Center for Disease Control and Prevention as of June 1, 2016.
There is not currently a specific medicine or vaccine for treating Zika at this time. Treat the symptoms by getting plenty of rest, drinking fluids to prevent dehydration, take medicines such as acetaminophen (Tylenol) or paracetamol to reduce fever and pain, Do not take aspirin until dengue can be ruled out to reduce risks of bleeding, and if you already take medicine for other medical conditions, talk to your doctor or health care provider.
The CDC provided information about how to help stop the spread of Zika Virus:
Keep mosquitoes outside

Create a barrier between you and mosquitoes

Wear insect repellant

Protect your family

Protect your partner

Do your homework before traveling
Fact Sheets:
http://www.cdc.gov/zika/pdfs/generic-families.pdf
http://www.cdc.gov/zika/pdfs/zika-pregnancytravel.pdf
http://www.cdc.gov/chikungunya/pdfs/fs_mosquito_bite_prevention_us.pdf
http://www.cdc.gov/zika/pdfs/mosquitolifecycle.pdf
http://www.cdc.gov/zika/pdfs/control_mosquitoes_chikv_denv_zika.pdf
The following links below give more information on Zika Virus.
http://www.cdc.gov/zika/index.html
http://www.cdc.gov/zika/geo/united-states.html
http://www.nj.gov/health/cd/zika/index.shtml
http://www.passaiccountynj.org/CivicAlerts.aspx?AID=511
References:
CDC

New Jersey State Dept. of Health
Last updated: 6/3/16